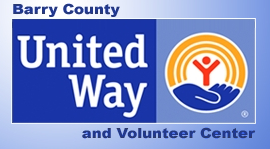 Welcome to Agency Resource Directory for Barry County.
Use this in-depth directory located within the Barry County United Way Website located here.  Or, you can dial 1-800-887-1107 and you will be connected, for free, to an Information and Referral specialist who can direct you to agencies that are currently helping with your need. Special Thanks to volunteer Marcia Szumowski for all of the many hours she so generously gave to this project. Click on a category below to browse the agencies.Go to the 2-1-1 page on our site to download and submit the 211 New Agency Application if you would like to be listed here or need to make changes to your listing.
Who Can Use 2-1-1?
If you\'re looking for assistance with a problem and you don\'t know where to turn, or you simply want information on a particular human service issue, 2-1-1 is for you. Callers in most Michigan communities have 2-1-1 access.
When Can I Call?
2-1-1 is available 24 hours a day, seven days a week.
How Does 2-1-1 Work?
If you\'re in one of the communities covered by the 2-1-1 service, just pick up your phone and dial 2-1-1. If you are outside the communities listed above or are calling by pay phone or cell phone, you can reach the call center directly by dialing 866.561.2500.
Who Answers the 2-1-1 Calls?
At Central Michigan 2-1-1, all the 2-1-1 calls are answered by trained professionals. Central Michigan 2-1-1 is endorsed by Michigan-AIRS (Michigan – Alliance of Information & Referral Systems).
What if I have problems dialing 2-1-1?
Callers from businesses and organizations with standard land-based phone systems should be able to pick the phone and dial 2-1-1 with no problem. If you experience difficulty, simply call 866.561.2500 to access the service and to inquire about technical assistance.